TPCI organises Stakeholder Consultation on enhancing India's Value Added F&B exports
Trade Promotion Council of India, with the support of the Department of Commerce, Government of India organized a Stakeholder Consultation on Enhancing India's Processed & Value Added F&B Exports on August 28 at Dr Ambedkar International Centre, New Delhi. Around 50 F&B exporters from across India joined the deliberations, along with prominent export promotion bodies and boards in the agri sector to deliberate on strategies to leverage India's untapped potential in value added F&B exports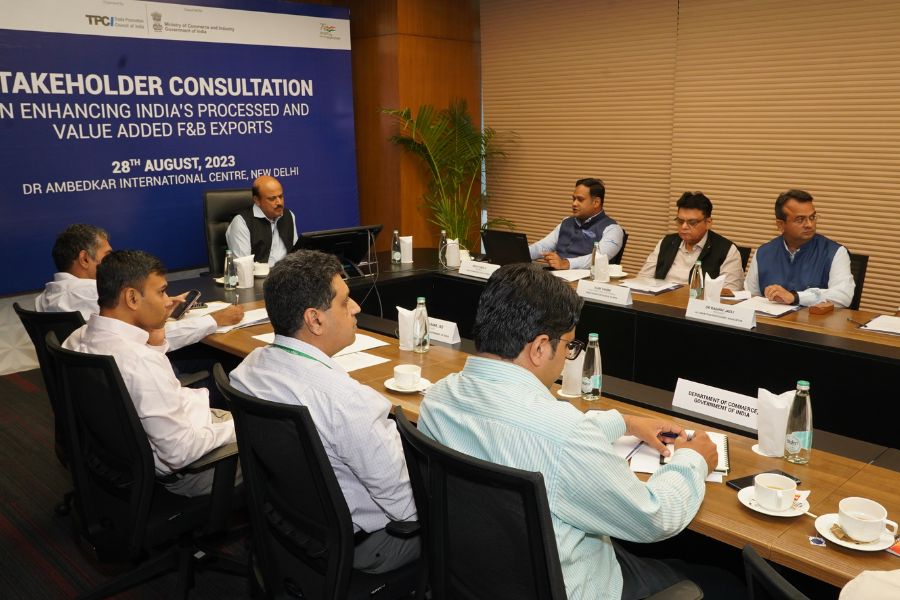 Trade Promotion Council of India, with the support of the Department of Commerce, Government of India organized a Stakeholder Consultation on Enhancing India's Processed & Value Added F&B Exports at Dr Ambedkar International Centre, New Delhi.
The session was presided over by Rajesh Agrawal, IAS, Additional Secretary at the Department of Commerce, Government of India. Representing TPCI were Mohit Singla, Chairman, and Vijay Gauba, Additional Director General. Also in attendance were distinguished figures including Abhishekh Dev, IAS, Chairman of APEDA; Dr. Raghav Jadli, President of the All India Food Processor's Association; alongside other prominent officials representing Department of Commerce, industry associations, and Commodity Boards. The gathering also saw the participation of senior executives from approximately 50 leading Indian Food & Beverage exporting firms.
Mr Mohit Singla made a detailed presentation on export trends of Prepared Foodstuffs in context of India's overall F&B exports. He highlighted India's low share of Prepared Foodstuffs as well as its weak presence in the top import markets of these products. He presented the findings of an analysis conducted by the Research Team of TPCI, which identified 40 HS Codes (6-digits) that account for around 75% of global imports of Prepared Food Stuffs.
He added, "The addressable market for these products globally is around US$ 421.7 billion, where India's share is just around 0.7%. Even if we have an aspirational target of 5% by 2030, we could target US$ 21 billion exports in just these products." He put forward a select basket of products that India could focus on, based on a comprehensive mapping of the country's export performance in these HS Codes and also proposed to have a focused strategy for promotion of Indian cuisine.
During his keynote address, Mr Rajesh Agrawal thanked TPCI for the initiative and also for the interesting insights presented during the discussion. He asserted that there is indeed a huge value added F&B market that India needs to tap on, and we need to deep dive into the value chain of shortlisted products from farm to fork
He emphasized on the merit of marketing Indian cuisine and taking a cue from countries like Italy, Japan and Thailand in this regard. This will boost exports of end products, which will give a strong impetus to the entire value chain.
Mr Aggarwal urged TPCI and APEDA to collaborate along with other agri associations and boards to develop a well-focused strategy in this direction.
Representatives of agri and food processing associations, commodity boards and industry expressed their views, suggestions and concerns pertaining to value added F&B exports during the meeting.