From the Desk of the Chairman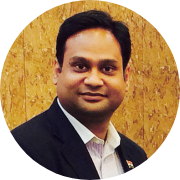 Mr. Mohit Singla
Chairman, TPCI
Managing Director
Cuttak Aggrivate pvt. ltd.
As an apex trade and investment promotion body under the Department of Commerce, Government of India, TPCI has been undertaking a series of well-targeted initiatives for the promotion of India's business interests globally.
Our flagship trade show Indusfood has evolved as the most comprehensive F&B marketplace in the South Asia region, showcasing F&B products, F&B processing and packaging technology. Over a span of 6 years, Indusfood has provided a dedicated and powerful platform for the Indian F&B industry to promote its strengths and expand its horizons in the global market. It has become the sole catalyst for robust growth in India's processed food exports, by ensuring direct linkages for Indian F&B exporters with global buyers.
I am pleased to inform that Indusfood 2023 was the largest ever edition we have witnessed since its inception 5-6 years ago. The fundamental strength of any such mega B2B platform comes from its participants. TPCI has been instrumental in establishing a very high sense of trust among stakeholders by providing a focussed B2B trading format with a carefully curated selection of exhibitors and buyers, which has brought them back consistently, year after year.
TPCI regularly maps the most lucrative opportunities across the global market landscape in target sectors and promotes existing and new Indian businesses through participation in trade shows, buyer-seller meets, international collaboration/investment/JV opportunities and networking arrangements through overseas missions, trade & investment promotion bodies across the world.
The Council has set up Centre for Advanced Trade Research, a research division to support India's economic and trade diplomacy. It has now set up sectoral forums in F&B, food processing technology, chemicals, ceramics to proactively address relevant industry issues at the appropriate forums. To catalyse stakeholder engagement, knowledge dissemination and problem solving, we have also set up an unparalleled thought leadership platform – India Business & Trade (tpci.in/indiabusinesstrade) to serve the interests of the Indian enterprise in a dynamic global market.
We live in a VUCA (Volatility, Uncertainty, Complexity and Ambiguity) world, and nowhere has this been more apparent than the past few years – from the COVID-19 pandemic to the surge in digitisation and further on with the rise in Industry 4.0 and prominence of new issues like climate change.
At the same time, India's aggressive push for deeper engagement with its key trade partners via FTAs, as well as steps to boost domestic business competitiveness through various policy measures provide significant hope for the future. As Indian companies continue to navigate the complexities and dynamics of the post-COVID global business landscape and make a strong push for achievement of the US$ 2 trillion export economy vision underlined in FTP 2023, TPCI is committed to support their endeavours, every step of the way.