From the Desk of the Chairman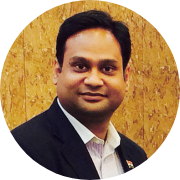 Mr. Mohit Singla
Chairman, TPCI
Managing Director
Cuttak Aggrivate pvt. ltd.
As an apex trade and investment promotion body under the Department of Commerce, Government of India, TPCI has been undertaking a series of well-targeted initiatives for the promotion of India's business interests globally.
Our flagship trade show Indusfood has evolved as the most comprehensive F&B marketplace in the South Asia region, showcasing F&B products, F&B processing and packaging technology. With 400+ exhibitors and 1,000+ international hosted buyers across 80 countries, the 2020 edition clocked US$ 1.5 billion in on-spot deals. On the other hand, the foodtech event registered US$ 600 million in on-spot business with over 220 exhibitors and 400+ hosted country buyers.
TPCI regularly maps the most lucrative opportunities across the global market landscape in target sectors and promotes existing and new Indian businesses through participation in trade shows, buyer-seller meets, international collaboration/investment/JV opportunities and networking arrangements through overseas missions, trade & investment promotion bodies across the world.
The Council has set up Centre for Advanced Trade Research, a research division to support India's economic and trade diplomacy. It has now set up sectoral forums in F&B, food processing technology, chemicals, ceramics to proactively address relevant industry issues at the appropriate forums.
This year, TPCI has launched an unparalleled thought leadership platform – India Business & Trade (tpci.in/indiabusinesstrade) to serve the interests of the Indian enterprise in a dynamic global market. It is a hub for in-depth knowledge and insights on business and trade (from the perspective of both government and industry) by TPCI's in-house content and research team along with noted business leaders, prominent industry/trade bodies/councils and distinguished academia.
Having said that, it is also true that we live in a VUCA (Volatility, Uncertainty, Complexity and Ambiguity) world, and nowhere has this been more apparent than the present COVID-19 pandemic. With the unprecedented disruption in global value chains, economic loss due to lockdowns across affected countries and severe restrictions on cross-border movements of professionals, COVID-19 inflicted untold damage on global trade.
There is no doubt that the pandemic has unleashed dramatic transformations in ways of doing business, and some of these changes could well be of more permanent nature. In accordance with the present situation, TPCI is effectively leveraging the digital interface to ensure that Indian businesses are not disadvantaged in their quest for global expansion. As Indian companies continue to navigate the complexities and dynamics of the post-COVID global business landscape, TPCI is committed to support their endeavours, every step of the way.