Certificate of Origin
Generate Electronic Certificate of Origin (Non Preferential) online using your Membership dashboard
To keep pace with the rapid shift to e-Business and improve efficiency in serving the business community, providing Electronic Non Preferential Certificates of Origin (eCOO) is a top priority for TPCI. Already an accepted practice by the Department of Commerce, Government of India, online CO services contribute significantly to a secured trading environment, help save time and costs, and increase transparency
Besides security features such as online verification of the authenticity of COOs and optical watermarking technology, eCO systems also provide electronic application as well as issue, complete with digital stamps of the Chamber and signatures of authorised officials. If you have access to the Internet, there is no reason for holding back. With eCOO, there is no longer a need for a wet stamp—with the exception of some situations in those countries which do not accept eCOs.
eCOO facility is also available to CHAs for effecting the shipments of their client exporters. CHAs need to become our member and choose '"Clearing and Forwarding Agent" while filling in the Form for Membership under "Nature of Business" and submit duly filled in form online followed by online payment using the link provided below.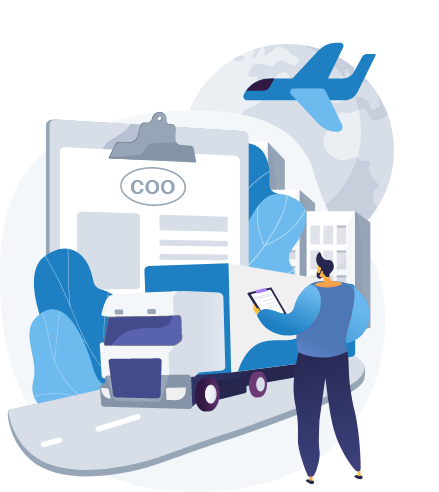 Search a Certificate
(For international customs authority only)

Its Fast
Ordinary and Partial members can now apply online using their personal dashboard and receive the stamped certificate in just 2 hours

Its secure
Our online Non Preferential-COO comes with embedded QR code for additional safety and authenticity along with digital online search feature for the authorities globally

Its Hasslefree
You will no longer require to physically visit the chamber office to obtain these certificates. Online payment and complete history makes you sit back and relax

Save more
Ordinary members pay Rs.75 and Partial members pay Rs.100 per certificate. Pay using digital wallet and top up using multiple pay options.
And Its Very Easy
1
Become a Ordinary / Partial Member
2
Apply for the e-COO using your online dashboard & Pay Online
3
Receive your online certificate in less than 2 Hrs
TPCI membership details
---
TPCI derives its primary strength from its members and a strong secretariat that cohesively works together and strives to achieve a common goal. The industry members are a symbol of our strength and knowledge.
The members take part in the activities organized by TPCI and also bring to the table various unaddressed areas of policy framework that creates bottlenecks for smooth sailing of the industry. For TPCI inter alia trade issues are generated for appropriate policy advocacy with the government along with proposals to organize various activities in form of trade shows, seminars and conferences.
TPCI invites Trade & Industry across one spectrum to register as a TPCI member to actively participate in the activities of the council. The annual Membership is valid from the date of receipt of subscription till the end of the financial year.
Types of TPCI members
Ordinary Members
The ordinary members primarily comprises of the following categories of members depending on the nature of the activity of the member organization. These members do not have any voting rights.
Types of Ordinary Members
Ordinary Members
Institutional Members
Professional Members
Benefits
Access to Global buyers and partners through participation in Government subsidized Industry Exhibitions, Buyer Seller Meets and programs organised by Trade Missions around the globe.
Regular interaction & business networking with TPCI's members, International agencies and diplomatic missions to gather market trends & Insights through industry seminars and conferences.
Avail Certificate Of Origin & Visa Recommendation letters for official business visits.
Access to TPCI publications for free.
Participation in skill development and training workshops organized by TPCI at subsidized rates.
Avail TPCI "On Demand" Business Services at minimal & subsidized cost depending on the nature/quantum of service required.
Documents required for Ordinary Member
Certificate of Registaration / Incorportation*
Proof of Turnover*
Copy of PAN Card*
IEC Certificate*
Partial Members
They shall be deemed to be the members of the society for the purpose of issuance of Certificate of Origin – Non preferential (NP) alone. All other business services shall be charged separately from these members at normal rates without extending any subsidiary.
Benefits
Can issue digital certificate of origin using online dashboard
Documents required for Partial Member
IEC or GST certificate*