Stakeholder discussion with Processed Food Industry on India-UK Trade Agreement
Trade Promotion Council of India in partnership with ICRIER organised a Stakeholder Consultation with the Processed Food industry to discuss the India-UK Trade Agreement on January 24, 2022. The discussion aimed to understand the perspectives of stakeholders on the processed food sector's potential, growth challenges and the prospects of liberalisation under the FTA.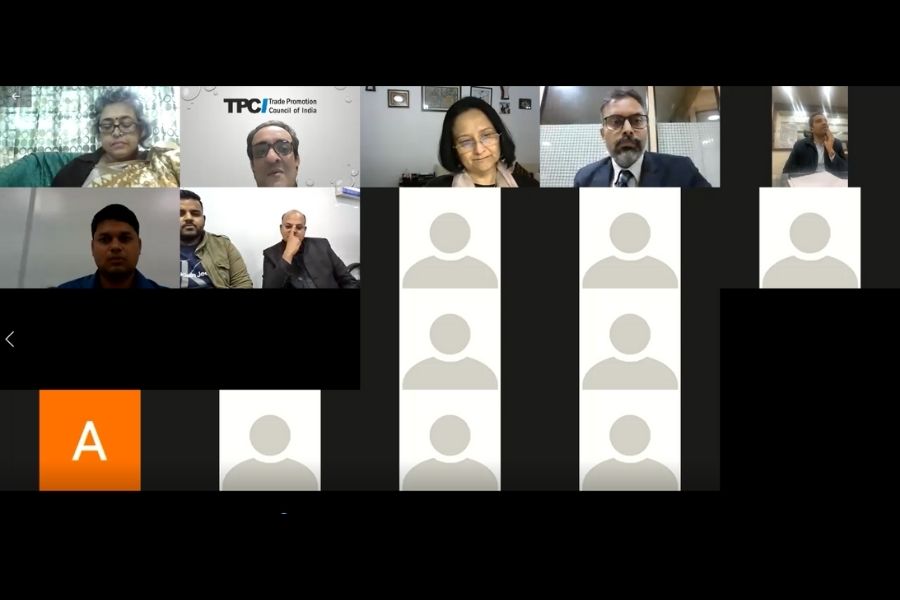 Trade Promotion Council of India organised a focused discussion with the Indian processed food industry in partnership with Indian Council for Research in International Economic Relations (ICRIER) on January 24, 2022. The session aimed to ascertain their views on the potential impact of the India-UK trade agreement, on the Indian processed food sector.
Buoyed by an abundant supply of raw materials and rising demand, India's food processing sector is rapidly expanding, with Gross Value Added (GVA) at current prices equivalent to INR 184.61 lakh crore in 2019-2020. As per estimates by the Ministry of Food Processing, the sector grew at an approximate CAGR of 10% between 2012-2020 and constitutes nearly 10% of the total GVA by manufacturing. In fact, the Gross Value Added in food processing has increased from INR 1.30 lakh crore to INR 2.08 lakh crore in the last 5 years.
The sector is expected to continue its growth trajectory, with aggregate output expected to increase from US$ 263 billion to US$ 535 billion by 2025-26, bolstered by various developmental schemes of the government including mega food parks, integrated cold chain and value addition infrastructure, agro food processing cluster and forward and backward linkages.
Some of the focus areas under discussion were as follows:
Current trends, projected growth, and trends in Indian processed foods – bakery, sweets, chocolates, sugar products – market
Major target markets and potential.
What are the major strengths and weaknesses of Indian processed food companies in the international market at present?
Benefits for Indian companies from the opening of markets, if formalised under the ongoing FTA negotiations
Tariff and duty structures across the value chain with the UK, and their impact on trade.
Non-tariff barriers deployed by the UK in the sector and their impact on trade.
View on domestic standards in processed food sector, and the relative ease of meeting standards in India.
Following is the list of panelists who were a part of the discussion:
Ramesh Agarwal, MD, Chandigarh Sweets Ltd.
Kush Lakhanpal, CEO, VR Industries
Shaishav Mittal, Founder & CEO, Lovely Bake Studio
Ketan Ruparel, MD, Nima Enterprises Pvt Ltd
Satyam Bansal, Partner, PML Foods & Beverages
Rahul Aggarwal, MD and CEO, Jabsons Foods
Rahul Shrivastava, GM-Marketing and Brand Management, Chandigarh Sweets Ltd
Dr Arpita Mukherjee, Professor, ICRIER represented the prominent policy think tank at these discussion and the session was moderated by Virat Bahri, Deputy Director, Media & Corporate Communications, Trade Promotion Council of India.