Stakeholder discussion with Importers and Retailers on India-UK Trade Agreement
Trade Promotion Council of India in partnership with ICRIER organised a Stakeholder Consultation with Importers and Retailers in the F&B space to discuss the India-UK Trade Agreement on January 28, 2022. The discussion aimed to understand the perspectives of stakeholders on the prospects of F&B imports in India's retail sector as well as major regulatory and procedural challenges that need to be addressed to simplify imports into India.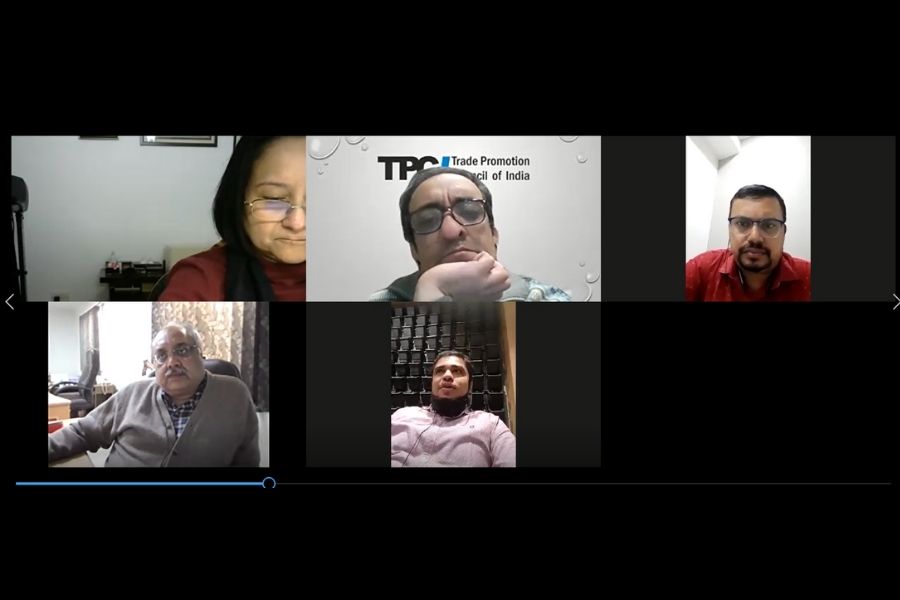 Trade Promotion Council of India organised a focused discussion with the Indian processed food industry in partnership with Indian Council for Research in International Economic Relations (ICRIER) on January 28, 2022. The session aimed to ascertain their views on the prospects, issues and challenges in F&B imports into India as well as strategies adopted by foreign brands in the sector to establish their operations in the country.
Some of the focus areas under discussion were as follows:
Potential of imported F&B products in the Indian market (also where specific from the UK).
Key drivers of market demand.
Challenges faced in terms of import procedures, regulatory issues, costs, ease of doing business, etc.
What F&B products are banned in the Indian market?
What can be the areas where India and UK can work to improve trade facilitation/ease of business for exports?
Following is the list of panelists who were a part of the discussion:
Pankaj Singhal, Director, RP Gourmet Foods
Sanjey Bijoria, MD, Bijoria Foods.
Vinayak Amburle, Category Head, Foodhall
Ashwin Gujran, Import Head, MRK Foods
Dr Arpita Mukherjee, Professor, ICRIER represented the prominent policy think tank at these discussion and the session was moderated by Virat Bahri, Deputy Director, Media & Corporate Communications, Trade Promotion Council of India.