Trade Promotion Council of India is organizing an "Indian Pavilion" in Lagos International Trade Fair at Tafawa Balewa Square, Lagos, Nigeria from 4th – 13th November 2022.
TPCI is pleased to invite its members and industry partners to join and showcase their products in the fair for promoting and generating new business avenues & orders from the Lagos in a big way.
The Lagos International Trade Fair is the largest International trade fair in Nigeria. The fair has attracted both local and foreign exhibitors over the years. The spectacular 10-day event usually begins on the first Friday in November of every year since 1981. The LITF is a unique exposition for manufacturers, suppliers, buyers and users of a wide range of goods and services as well as opportunities for investment and trade promotion and will bring together the leading importers, prominent distributors. The Lagos international trade fair is an immense opportunity to exchange ideas with stakeholders within the global food community.
It is an important inclusive meeting place for Indian MSMEs pertaining to the below sectors:
● Collaboratewith the prominent & new importers, retailers, distributor, wholesalers & partners from the Nigeria and other participating countries
● Growyour business in the Nigerian and other neighbouring markets
● Nurtureyour business relationships by meeting the existing partners and flag bearers of the industry from the Nigeria
Product Segments:
● Agriculture & Agro allied
● Building & construction
● Automotive & allied products
● ICT & telecommunications
● Mining and energy
● Plants and equipment
● Business equipment/ Data processing/ printing technologies
● Security and safety equipment
● Personal care & household product
● Fashion, textile & clothing apparel
● Furniture, Fitting and Interior décor
● Oil and Gas
Participation Charges:
Note:
Ø Valid IEC is must.
Ø 1 person per company at subsidized price allowed.
Inclusions
Ø Booth space – built up
Ø Hotel Stay For 1 PAX on Twin Sharing basis
Ø International Flights included
Ø Visa Assistance as long as it is applied as per the specified deadline.
Ø Visa Fees excluded
Subsidized Price in INR
INR 2,00,000/- (For TPCI Members) + 18% GST
INR 2,50,000 (For Non Members) + 18% GST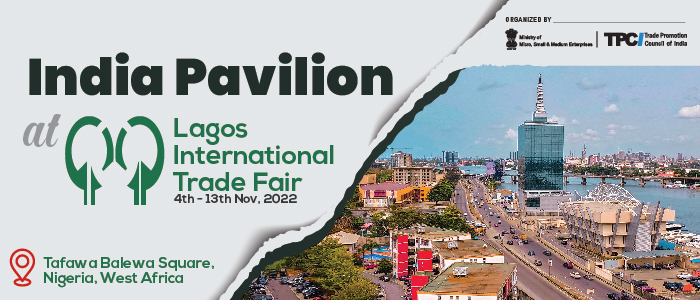 Please apply with the duly-filled form attached along with the payment advice of complete amount in favour of "Trade Promotion Council of India" payable at NEW DELHI and secure discounted rate. The last day to apply for the participation in the show is 30th September 2022. This subsidy is strictly on first come first service basis only (20 discounted seats available)