Trade Promotion Council of India is pleased to announce the launch of the inaugural edition of India Business & Trade Annual Conclave 2023 (IBTC) in collaboration with NITI Aayog and Directorate General Foreign Trade (DGFT), scheduled for May 23 at ITC Maurya, New Delhi.
The theme of the inaugural IBTC will be India @2030: Decoding FTP 2023 & Blueprint for a $2 trillion export economy.
IBTC is a pioneering initiative conceptualized by TPCI to enable holistic cross-stakeholder deliberations on taking India to the forefront of international trade.
For the first time, on the request of industry members, Hon'ble DGFT Santosh Sarangi, IAS will grace the event as Keynote Speaker and engage intensively with industry members. The esteemed panel for these discussions will comprise a cross-section of thought leaders from across policy, academia and industry.
Overview
The Government of India released its latest Foreign Trade Policy 2023 on March 31, announcing a series of important measures to catalyse India's foreign trade. FTP 2023 has expressed an ambitious vision to expand India's total exports to US$ 2 trillion in less than a decade.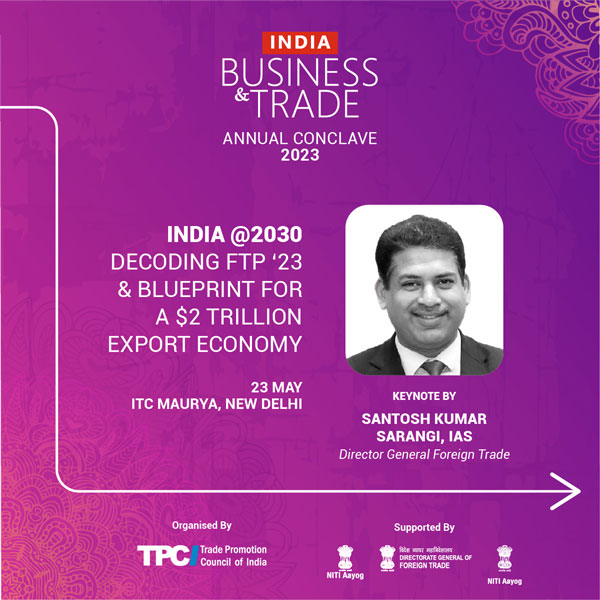 FTP 2023 charts a radical course for India's trade policy roadmap going forward, particularly as it comes without an end date unlike its predecessors. This indicates a progressive and flexible policy approach going forward. Moreover, the policy has placed far greater emphasis on facilitators and drivers to boost India's competitiveness, instead of relying on trade incentives (also because export incentives have been deemed incompatible with India's WTO commitments).
The key approach to the policy, as described by the government, is based on four pillars.
• Incentives to remission
• Export promotion through collaboration- exporters, states, districts and Indian missions
• Ease of doing business in transaction cost and e-initiatives
• Emerging areas including E-commerce, developing districts as export hubs and streamlining SCOMET policy.
Progressive policy measures and consistent efforts of the industry have led to robust growth in India's exports over the years. Defying global economic uncertainty, India's overall exports in 2022-23 are estimated to have reached a new high, increasing by 13.84% YoY to US$ 770 billion. From CY 2016 to CY 2022, India's exports have grown by 55.4% compared to 28% for global exports. Sectors like engineering goods, agri products, pharma, electronic goods marine products and toys have seen strong growth.
Topics covered under IBTC 2023
Which sectors and markets will account for India's export growth as it charts its course towards the vision of US$ 2 trillion exports? How will domestic policy interventions and international trade diplomacy play a catalytic role in this progress? How will India's export performance be impacted by the evolving geopolitical climate and policy orientations of major trade partners?
The inaugural edition of IBTC 2023 will explore answers to all this and more. Join us for a day of intense power packed discussions and knowledge exchange on the road ahead for India's trade policy.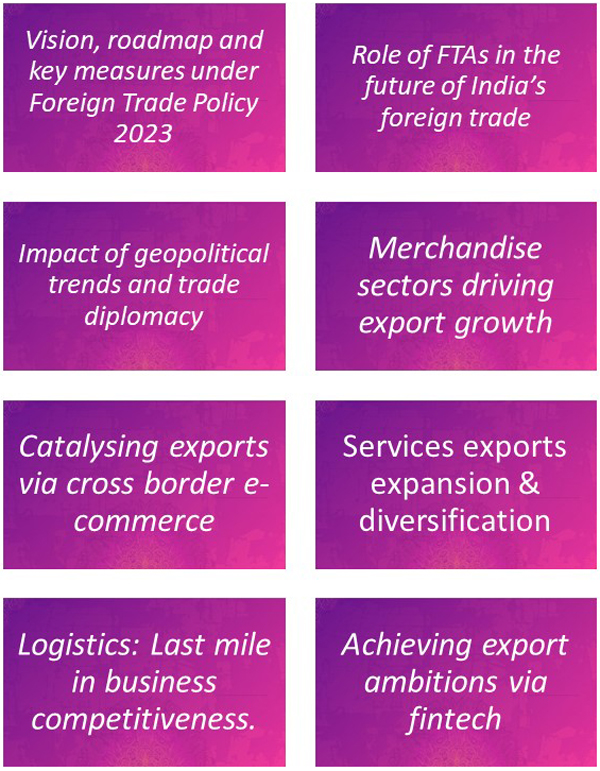 Events @IBTC 2023
India Business & Trade Annual Conclave session details are as follows: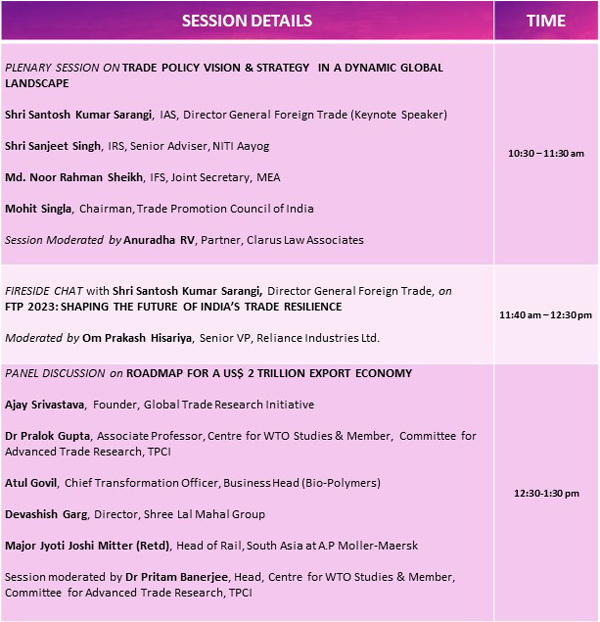 Keynote By

Santosh Kumar Sarangi, IAS
Director General Foreign Trade

Speakers

Sanjeet Singh
Senior Adviser, NITI Aayog

Md. Noor Rahman Sheikh, IFS
Joint Secretary, ED Division, MEA

Om Prakash Hisariya
Senior VP, Reliance Industries Ltd.

Mohit Singla
Chairman, Trade Promotion Council of India

Anuradha RV
Partner, Clarus Law Associates

Ajay Srivastava
Co-founder, Global Trade Research Initiative

Dr. Pritam Banerjee
Professor & Head, Centre for WTO Studies and Member, CATR, TPCI

Dr Pralok Gupta
Associate Professor, Centre for WTO Studies and Member, CATR, TPCI

Atul Govil
Chief Transformation Officer, Business Head (Bio-Polymers)

Major Jyoti Joshi Mitter (Retd)
Head of Rail, South Asia at A.P Moller-Maersk

Devashish Garg
Director, Shree Lal Mahal Group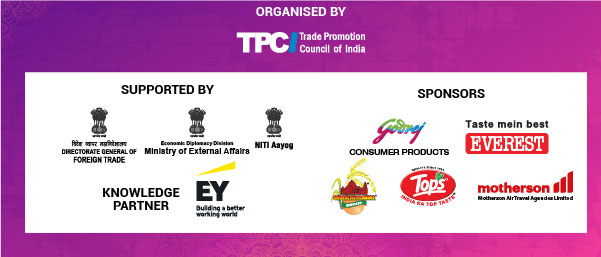 Registration for the physical event is by invitation only. To register for the online session, click https://us06web.zoom.us/webinar/register/WN_U6U-woYBTFyDvvlI7STDtw
For sponsorship details, contact Virat Bahri at virat.bahri@tpci.in.