From a platform for carbon credit trading by farmers in Gujarat to the Centre considering a change in legislation for implementing the carbon trading scheme, India has become one of the hottest markets for carbon trade. Keeping this in mind, the Trade Promotion Council of India is organising a webinar on Carbon trade: The 'climate-proof' export opportunity on Friday, 17th June, 2022 at 3 pm IST.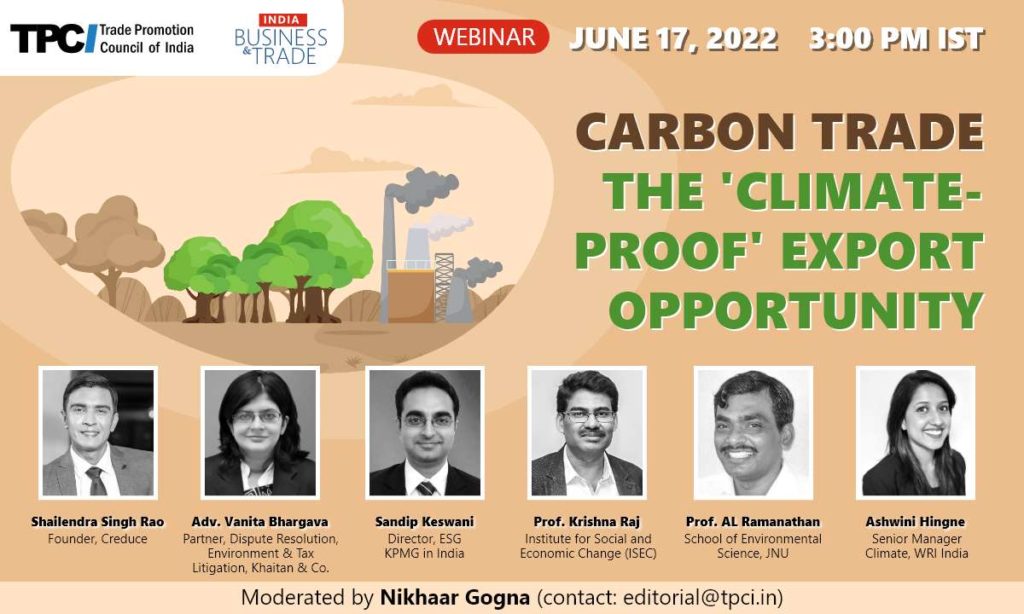 India is one of the largest beneficiaries of total world carbon trade through Clean Development Mechanism (CDM), claiming about 31%. The country has generated approximately 30 million carbon credits, the second highest transacted volumes in the world. It is also the largest exporter of carbon credits. It is expected to gain at least US$ 5 billion to US$ 10 billion from carbon trading (Rs 22,500 crore to Rs 45,000 crore) over a period of time.
Interestingly, albeit India is one of the fastest growing carbon trading markets in the world, it needs to build an effective and transparent legal framework for the same. This is imperative to unleash the true potential of carbon trading in the country as an emissions trading scheme is a market-based solution to pollution control.
The panellists for this webinar will dwell on:
● The concept of carbon trading and how carbon trading permits work.
● Global carbon market & what makes India the hottest market for carbon trade.
● Role of carbon trading in combating climate change & its economic benefits.
● Formulation of a trade-friendly carbon trading regulation.
The Panel includes:
● Shailendra Singh Rao, Founder, Creduce.
● Vanita Bhargava, Partner, Dispute Resolution, Environment & Tax Litigation, Khaitan & Co.
● Sandip Keswani, Director, ESG, KPMG in India
● Krishna Raj, Institute for Social and Economic Change (ISEC)
● Prof AL Ramanathan, School of Environmental Science, JNU
● Ashwini Hingne, Senior Manager, Climate, WRI India.
https://us06web.zoom.us/webinar/register/WN_BtcKJD1HQFy_o94BxJ7JrA
For further details, contact Nikhaar Gogna at editorial@tpci.in