Trade Promotion Council of India (TPCI), will be organizing a webinar on 'Steering the EV Revolution in India' on 26th April, 2022 (Tuesday), 3:00 pm. The webinar will deliberate on the current EV ecosystem in the country, it's growth prospects and how India can emerge as an EV manufacturing and export hub.
With global crude oil prices skyrocketing amidst supply chain disruptions following the Russia-Ukrainian crisis, the need for electric vehicles (EVs) is rising more than ever. This is in line with industry estimates that project that the EV market in India is expected to grow at an estimated CAGR of 90% from 2021 to 2030 and be worth more than US$ 150 billion by 2030, according to a report by RBSA Advisors.
The government is also supporting the sector with policies like transitioning at least 30% vehicle sales to EV by 2030, Faster Adoption and Manufacturing of Hybrid and Electric Vehicles (FAME) & production-linked incentive (PLI) scheme for EVs. Government think-tank, NITI Aayog, has estimated that such policies are expected to push EV penetration to 30% for private cars, 70% for commercial cars, 40% for buses and 80% for two wheelers (2Ws) and three wheelers (3Ws) by 2030.
However, when one looks at EV adoption in the past, the numbers have been low. Reports suggest that in India, EV sales accounted for barely 1.3% of total automobile sales during 2020-21. This can be attributed to concerns lingering on lack of charging infrastructure, upfront costs, range, speed, battery life and battery technology. The COVID-19 pandemic, too, weakened consumer appetite for EVs in the country.
Will the sector be able to bounce back in tune with its stated potential and deliver desired economic benefits to India?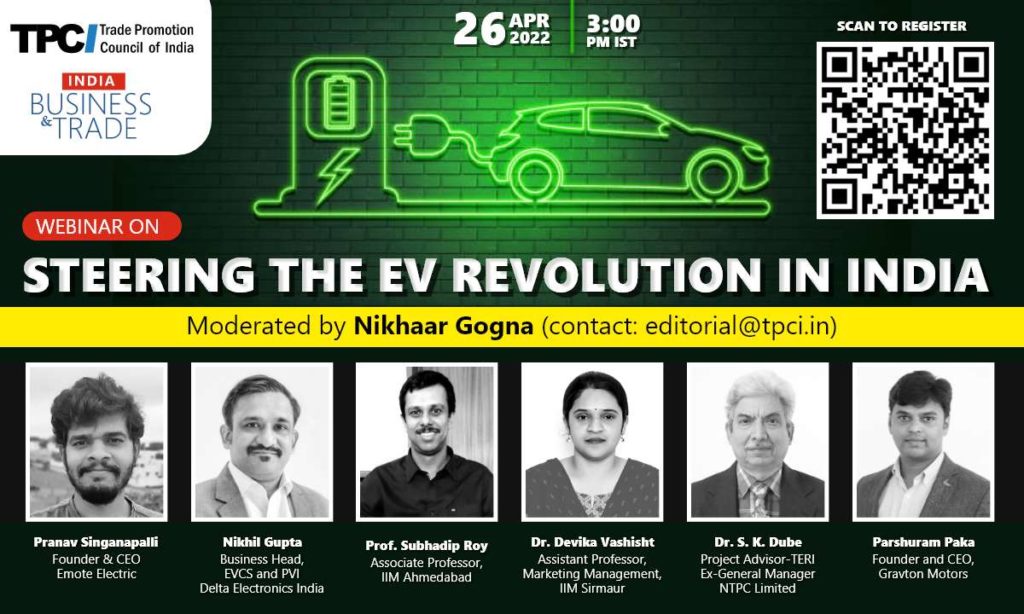 The panellists will deliberate upon:
The evolution of EV ecosystem in India
The policy landscape to promote the proliferation of EV landscape in the country
Are EVs as eco-friendly as they are made out to be?
Making India into a hub for EV production and exports
Ev adoption from a consumer behaviour perspective
The speakers for the session are as follows:
Pranav Singanapalli, Founder & CEO, Emote Electric
Mr Nikhil Gupta,Business Head, EVCS and PVI, Delta Electronics India
Subhadip Roy,Associate Professor, Indian Institute of Management Ahmedabad
Devika Vashisht, Assistant Professor, Marketing Management, Indian Institute of Management Sirmaur
S. K. Dube, Project Advisor-TERI and Ex-General Manager, NTPC Limited
Parshuram Paka, Founder and CEO, Gravton Motors
To register for the session, click
https://us06web.zoom.us/webinar/register/WN_8f4amGjDTLu-Ehkc7LVhHg
For further details, contact Nikhaar Gogna at editorial@tpci.in