Introduction
Exports play a major role in boosting the growth of an economy and hence it is important for a nation to strengthen exports and increase its share of exports in the global trade. To this end, the government has set up a target of $1 trillion in 2027-28 for merchandise exports and $650 billion for both goods and services for the year 2022-23 with $400 billion from merchandise alone. However, for expanding India's export potential and utilizing the local capabilities to fulfil the global demand there is a need for diversification of India's export basket as well as identification of new products that can be exported and also identifying relevant markets for such items. In fact, the Prime Minister has urged the "stakeholders to accelerate existing exports and also work to create markets, new destinations for new products".
In consonance with the government's emphasis on enhanced market access across the world and diversification of export markets, the Indian Institute of Foreign Trade (IIFT), autonomous institution under the Ministry of Commerce & Industry, Government of India, in partnership with the Trade Promotion Council of India, has developed a series of programmes on promotion of exports specific to different states. The primary objective of the programmes is to build knowledge on the key aspects of export/import management, knowhow on international business; market and buyer identification, especially after the changes in the global supply chain in the post-COVID world; changing domestic regulatory framework and its impact on exports.
Who Should Attend/Participants
Exporters from different regions of Maharashtra
Aspiring exporters / entrepreneurs
Officials from Government Departments dealing with international trade
Executives from international divisions of companies
Objectives:
Expectations from the Foreign Trade Policy 2021-26
Export Promotion Policy Measures from the State of Maharashtra
Understanding the top existing and new export opportunities from Maharashtra
Analysis of the Potential of Asia including Asia- Pacific (APAC), Europe, Middle East and Africa (EMEA) and the Americas (North America & South America) for exports from Maharashtra
Panel of Speakers
The panel of speakers for the three-day session is as follows:
Rajiv Gatne, CEO & Director, Sunshine Healthcare Ltd
Dr Satinder Bhatia, Dean, Head (CDOE), Professor HOD (Finance), IIFT
Professor Sachin Kumar Sharma, Associate Professor, Centre for WTO Studies, IIFT Delhi
Professor Murali Kallummal, Professor, Centre for WTO Studies, IIFT Delhi
Professor Tamanna Chaturvedi, Consultant, Indian Institute of Foreign Trade
Shankar Gupta, Director, Tapasya Engineering Works Pvt Ltd
Rajiv Nath, MD, Hindustan Syringes & Medical Device Ltd. and Forum Coordinator, Association of Indian Medical Device Industry (AIMED)
Ram Chet Chaudhary, Chairman, Participatory Rural Development Foundation (PRDF)
Duration:
Online sessions over three days.
All class sessions are live and facilitate two- way interaction between participants and faculty via the online mode. Candidates will be given a Certificate of Participation post the completion of the session.
Session Days and Timing:
Programme on: Export Opportunities from Maharashtra
6/5/22 – 8/5/22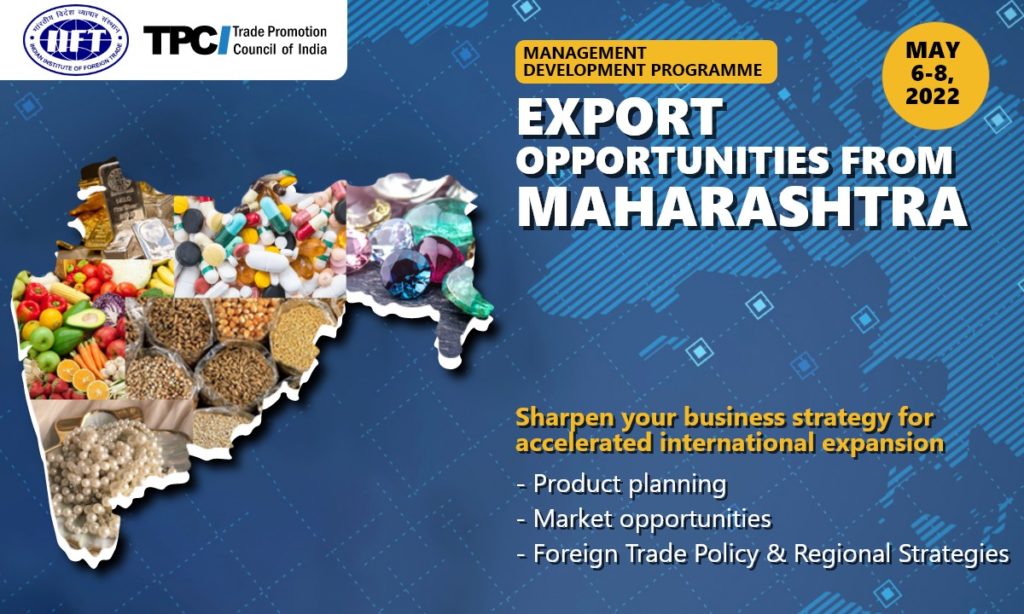 Attendees will get a Certificate of Participation after the completion of the programme from IIFT.
Fee for the Programme:
₹. 10,000/- + 18% GST per participant
Payment details:
BENEFICIARY NAME : Indian Institute of Foreign Trade (IIFT)
BANK NAME : Indian Bank
BENEFICIARY ACCOUNT NO. : 767635122
IFSC : IDIB000M089
Further Training and Consultancy related inquiry, please contact:
Indian Institute of Foreign Trade
B-21, Qutab Institutional Area New Delhi (110016) – India
Tel: 011-39147303 / Email id: cdoe@iift.edu
Trade Promotion Council of India (TPCI)
Scindia House, Connaught Place
New Delhi – 110001
Contact person: Apurva Jain
Ph: +91 92058 83418
Email: apurva.jain@tpci.in
To know more about the programme, click here