Market Entry Strategies for Exports
Trade Promotion Council of India is commencing an International Marketing Series for the benefit of exporters. This series intends to address some of the most common challenges faced by industry in global expansion, and share best practices for building a successful international brand.
The first webinar in this series will be on the topic Market Entry Strategies for Exports, on Friday, 16th September, 2022 at 3 pm IST. The panellists will deliberate on the most suitable approaches for new market selection and successful penetration.
The Indian government has laid out a vision to make India a US$ 5 trillion economy and global powerhouse. Economists feel that in order to achieve this, India will need to ensure at least US$ 1 trillion in exports.
Acknowledging the role of exports in driving the economy's growth PM Narendra Modi commented last year, "At present our exports are about 20% of GDP. Considering the size of our economy, our potential, the base of our manufacturing and service industry, it has the potential to grow a lot."
Not only are exports crucial to boost India's GDP, they are also important for Indian companies to increase sales and profits if the goods create new markets or expand existing ones.
For India to augment its exports, it is critical to diversify its export basket and identify new & lucrative markets. However, nearly 50% of India's exports are accounted for by just its top 10 export destinations. Market diversification is typically considered a risky proposition, considering the uncertainties involved, the high initial costs in terms of investment, time and resources and the risk of loss. These reasons often discourage exporters from exploring these unchartered territories, despite the promise they may offer.
To address these concerns, the webinar will focus on the following themes:
Markets that have an untapped export potential for India
Gauging a firm's export readiness
Common market entry barriers
Strategies for market diversification
Case studies on successful market entry and learnings
The panel includes:
Dr. Rajendra Prasad Sharma, Professor- Marketing Area, Indian Institute of Foreign Trade

Prof Harsh V Verma, Faculty of Management Studies, Delhi University

Mr Debarshi Dey, Marketing Director, Mylab Discovery Solutions

Ms Priyanka Shah, Co-founder, Expora
To register, click https://us06web.zoom.us/webinar/register/WN_pz5Ub5PISiqH1Jd-0k3_qQ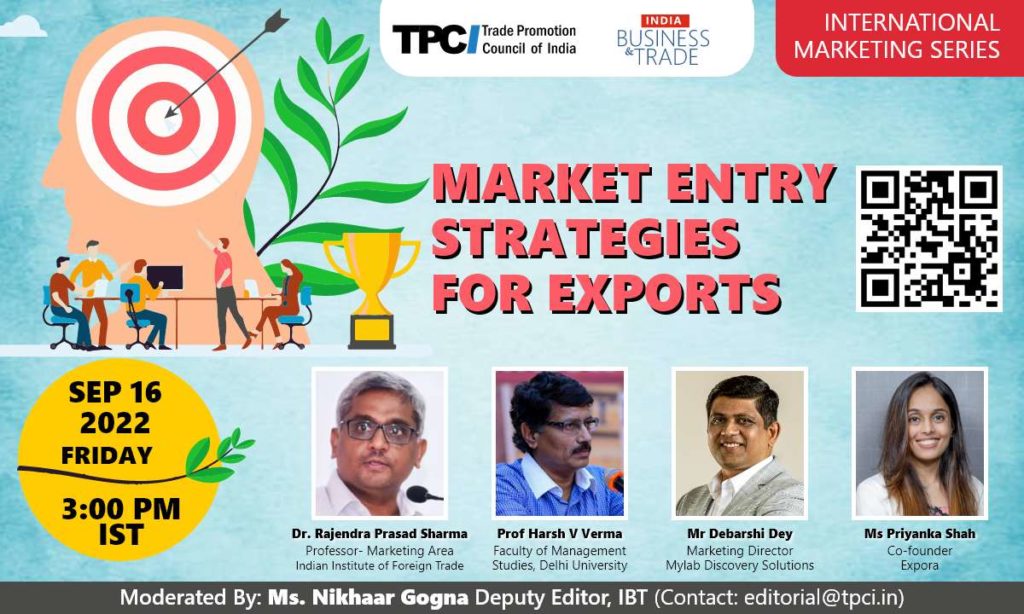 ---