The 6th Edition of Indusfood, South Asia's largest integrated trade show for the Food & Beverage Industry, is being organized during January 8-10, 2023 at the HITEX Exhibition Centre, Hyderabad. In this Edition, TPCI is pleased to announce the launch of Indus Knowledge Hub, a novel initiative towards knowledge dissemination and networking for the global F&B industry.
This year, the Indus Knowledge Hub will feature a series of exciting seminars and panel discussions wherein top importers, retailers, distributors from key markets will talk about best business practices, opportunities, challenges and growth prospects for F&B players.
Benefit from a range of dynamic, impactful and inspiring thought leadership sessions that will enhance your understanding of latest market trends and guide your business strategy.
Millets: Smart food for Smart Society
Millets are rich sources of nutrients like carbohydrates, proteins, dietary fibre, good quality fat and have higher amounts of minerals like calcium, potassium, magnesium, iron and B complex vitamins, making them a preferable choice over cereal grains. Due to this nutrient richness, the grains are gazetted as 'NUTRICEREALS' by Government of India.
As the world faces challenges of dry lands expansion, soil degradation and ground water scarcity, experts claim that there is a lesser possibility of crop improvement of major staple cereals production. Millets being photosensitive (do not require a specific photoperiod for flowering) and resilient to climate change can act as good alternative in today's scenario. Their potential yields are also not impacted by increase in CO2 levels as compared to other cereals.
Due to these benefits, India pushed a proposal in the UN for recognition of 2023 as the International Year of Millets, which was subsequently approved.
In celebration of this momentous achievement led by the vision of our PM Narendra Modi, Indusfood Knowledge Hub is organising an exclusive knowledge session on millets on the sidelines of Indusfood 2023.
The discussion will focus on:
The importance of millets in the war against climate change.
Nutritional and commercial values of millets.
Value added products of millets and their role in overall health and well being.
Future of Modern Trade Seminars
Engage with top F&B retail/e-tail giants from across the world for critical insights on Market trends, Regulatory environment, new growth segments and evolving customer expectations.
Best practices in brand positioning, packaging, merchandising.
The digital disruption and how it is transforming retail.
E-commerce business models.
Maximising ROI and building successful brands in modern retail.
Session details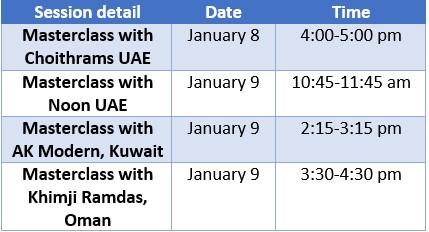 Market Intelligence Series
Exclusive panel discussions on region-specific market dynamics, led by top importers and distributors.
Network with leading global players in the target region.
Get updated on regional trends, regulatory environment, demand potential, marketing best practices, etc.
Session details

Cost per session per person: Rs 3,000/- (inclusive of taxes)
Terms & Conditions:
The session on Millets is exclusively for participants at Indusfood 2023 at no charge, where registration can be done on a first-cum-first-served basis.
Interested participants can register with their details and  make the payment as per the link below.
On successful payment, the participant will get a receipt which can be shown for entry into the session.
All sessions will be held at the HITEX Exhibition Centre, Hyderabad, the venue for Indusfood 2023 being held during January 8-10, 2023. Participants will be communicated the exact details of the venue closer to date.
Any changes in the programme will also be communicated to participants on their registered email IDs.

Please click the link below to register for the sessions.