Workshop and Training on Design & Brand Building for the Ceramic Industry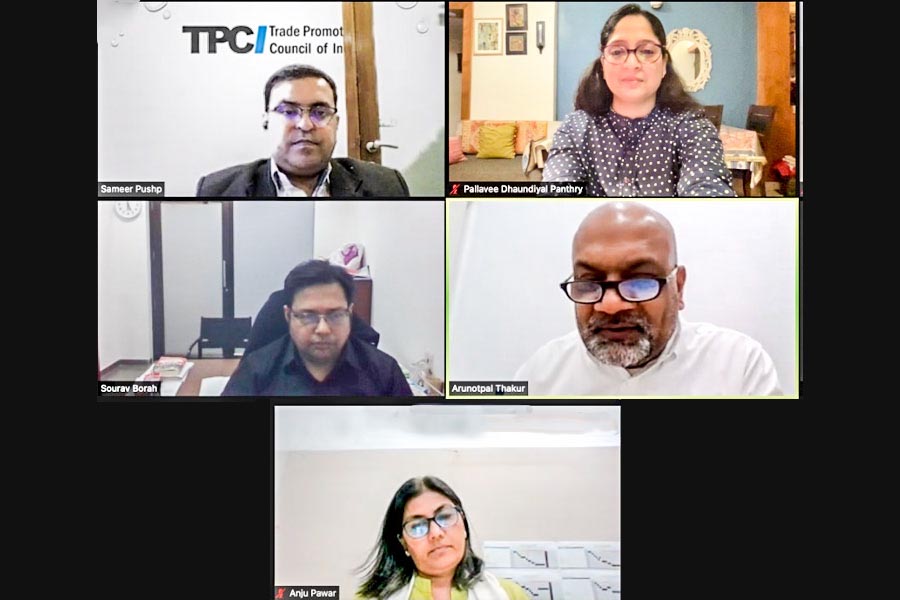 TPCI successfully organised Workshop and training on design and brand building for the ceramic Industry on 25th February 2022. The panel of experts hailing from reputed bodies deliberated upon various topics to leverage strength of brand India in the global market. From strategy to tactics: Building, implementing, and managing brand equity wias part of sessions deliberation.
The TPCI member exporters hailing from ceramic products categories joined this session. The workshop will be followed by a Q&A session.
The esteemed panel of speakers who addressed the session is as below;
Anju Pawar – Discipline Faculty, Ceramic & Glass Design, National Institute of Design, Ahmedabad
Arunotpal Thakur- Visiting Professor, Dept. of Design
Delhi Technological University, New Delhi, India
Sourav Vikash Borah- Assistant Professor, Marketing IIM Ahmedabad
Pallavee Dhaundiyal Panthry, Founder and Executive Directo, Amigoz PR & Communications
The major take away of the session are;
● Few countries will always be cost effective don't need to worry about it; one needs to keep playing the game quality consistently.
● Build customization
● Engage customers in manufacturing and design
● Optimize your website and content from the customers perspective
● Start collecting data wherever possible connected to your brand, data is the new oil
● Proper branding combined with a good PR can result in higher sales and customer loyalty in the long run.
● Design and branding should always be considered part of value addition.
This workshop was supported under the MAI scheme of the Ministry of Commerce & Industry, GOI. The Joint Secretary of EP (CAP) Shri Manish Chadha, Department of Commerce, has already delivered the opening keynote address on 8th February 2022 (Tuesday).
Industrial marketers have long argued that brands play little role in the decision making process. Several macro-level changes have occurred challenging these notions some of which are reviewed.
Today India a hotbed of opportunities, has been going through tectonic shifts at the intersection of consumerism and entrepreneurship, evoking behavioural patterns that are more than interesting to observe, and problems ever so enticing to solve.
India's ceramic industry- India's ceramic product exports in April-November 2021 of FY 2021-22 stood at US$ 1.5 billion which constituted for about 0.57% of India's total exports US$ 266 billion. The five-year CAGR (Compound Annual Growth Rate) 2016-20 of ceramic exports was estimated at 13.79% (UN COMTRADE, 2022).
The top export destinations of Indian ceramic exports in 2020 were Saudi Arabia, USA, and UAE that composed of approximately 30% of exported value in 2020. The top exported ceramic products are; Unglazed ceramic flags and paving, Refractory bricks, blocks, tiles, and Ceramic sinks, washbasins, etc. In order to facilitate export in this segment, export credit availability, capacity building and knowledge dissemination are the need of the hour to better enable Indian exporters in this segment.
This session was moderated by Sameer Pushp, Director Media & Corporate Communications, TPCI.